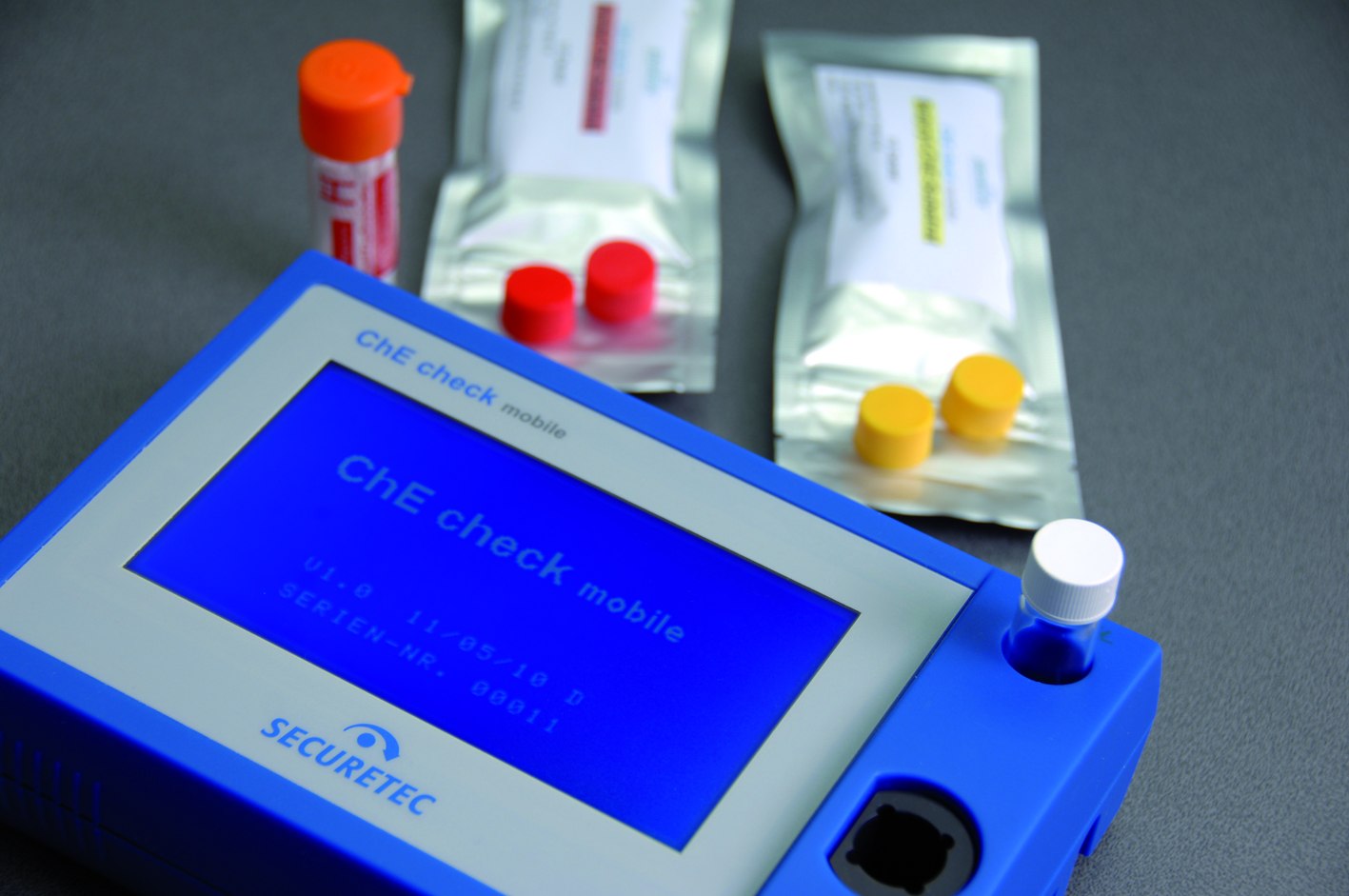 Rapid test Cholinesterase
ChE check mobile
Point of care determination of Cholinesterase 
Routinely measuring the blood cholinesterase level in the field and in laboratories: The on-site device is used for in vitro diagnostic determination of cholinesterase levels in whole blood. Based on the photometric measurement, Acetylcholinesterase (AChE) and Butyrylcholinesterase (BChE) activity can be measured in a user-friendly way.
Designed for ChE testing in the field
The small, lightweight testing system features the following characteristics:
Results within 4 minutes
Convenient and safe finger prick sampling
Portable and easy-to-use with touchscreen
User gets medical advice to interpret critical results
Memory for 600 results and USB interface included
CE labeled: The device meets the requirements of international standards (Directive 98/79/EC for IVD)
Developed for military and civil purposes
(1) Organophosphate poisoning in military conflicts and terrorist attacks
(2) Acute pesticide poisoning with toxic agrochemicals
Further advantages
The device can be operated at temperatures between +10 and +50 °C. ChE check mobile is battery powered and designed for vehicle use (4.8 to 24 V range). Flash memory technology makes the system future proof and user customisable.
AChE check Control makes the results of AChE testing more reliable and conclusive. The use of controls is essential for compliance with legal requirements and standards.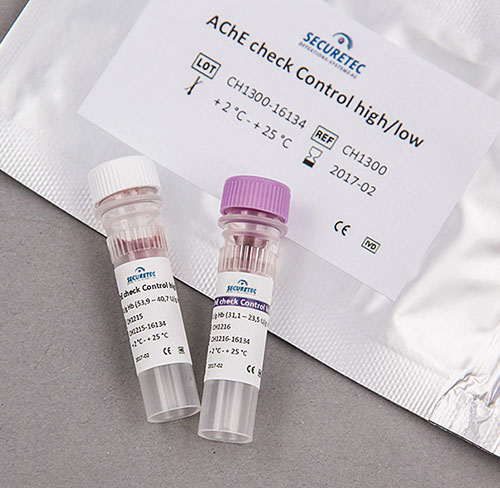 The ChE Protection Case enables safe transportation of your ChE check mobile. The ChE Protection Case offers protection for your device and test kit when testing in the field.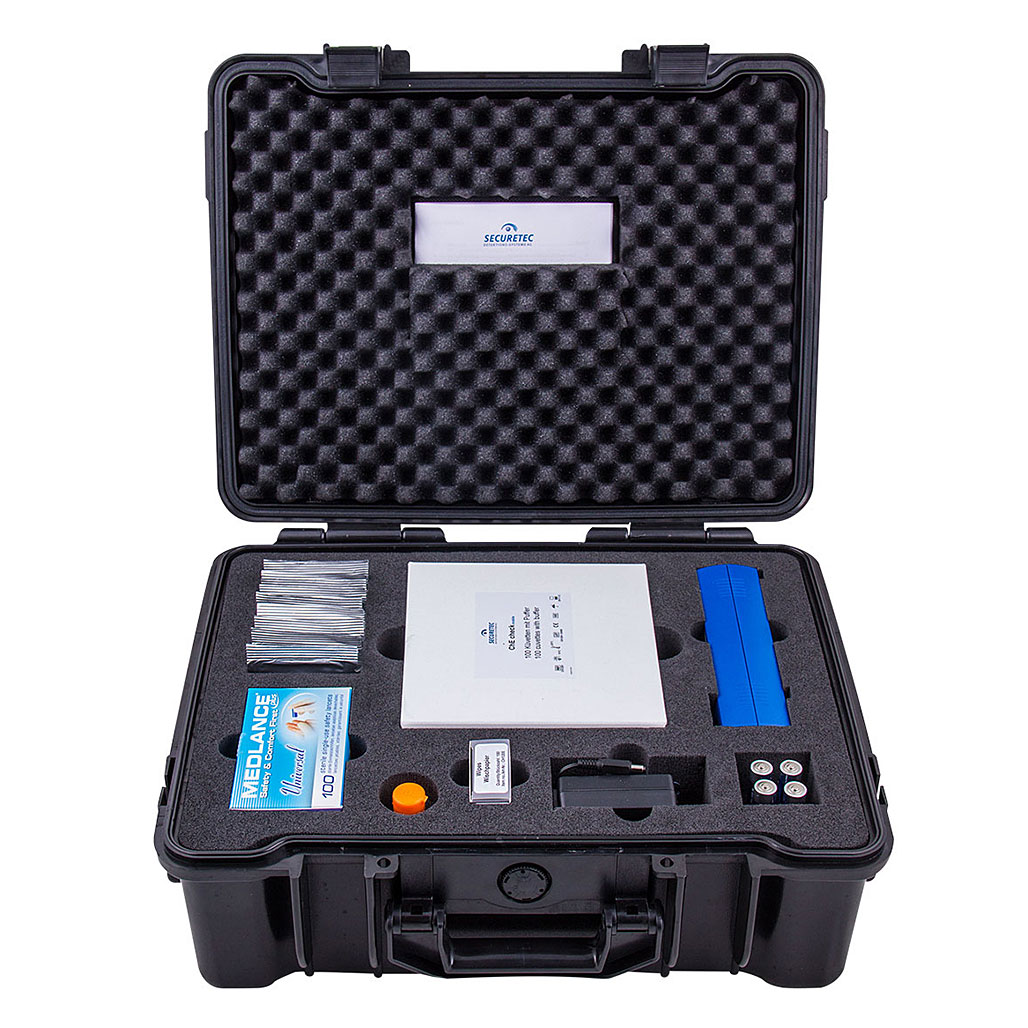 | Art.No. | Product name & usage | Package |
| --- | --- | --- |
| CH1104 | AChE starter set | Photometer + 1 AChE assay kit (100 tests) |
| CH1105 | BChE starter set | Photometer + 1 BChE assay kit (100 tests) |
| CH1106 | AChE assay kit for ChE check mobile (100 tests) | AChE assay kit for ChE check mobile (100 tests) including capillaries, cuvettes with buffer solution, lids with substrates, lancet device and wipes |
| CH1107 | BChE assay kit for ChE check mobile (100 tests) | BChE assay kit for ChE check mobile (100 tests) including capillaries, cuvettes with buffer solution, lids with substrates, lancet device and wipes |
| CH1300 | AChE check Control | 1 Control high and 1 Control low |
| CH1215 | ChE Protection Case | 1 case with foam inlays |